THE MESOPROTEROZOIC PERIDOTITE-SHONKINITE SERIES IS NEW TYPE OF INTRPLATE MAGMATISM OF THE KOLA ALKALINE PROVINCE
Petrovsky M.N., Bayanova T.B., Petrovskaya L.S., Bazay A.V.
GI KSC RAS, Apatity, petrovskiy@geoksc.apatity.ru
The high potassium peridotite-shonkinite magmatic series have been first identified among the alkaline-ultramafic series of the Kola alkaline province. Small concentrically zoned intrusions of this series are located in the Murmansk Neoarchaean craton along the zone of the Tito-Keivy deep fault. Rocks series formation was taken place in the early Mesoproterozoic. The isotopic ages have been determined by U-Pb zircon: psevdoleytsit-nepheline syenite-porphyry isochronous age was 1668 ± 4 Ma, and for magmatic zircons from leykosienita was obtained concordant age equal to 1580 ± 10 Ma. Based on the isotopic composition of neodymium (εNd = -8.91 - 12.40) and strontium (εSr = +56.03 - +82.62) for the rocks of peridotite-shonkinitovoy series, we can conclude that the source of their melts were enriched mantle type EM-II. These data have been fundamentally distinguished them as the Paleoproterozoic rocks of the alkaline-ultramafic series of the region, for which the source is near the reservoir BSE, and from the Mesoproterozoic leytsititov and lamproite Neoarchaean Murmansk Craton and lamproite Kostomukshi, for which the source responsible reservoir enriched mantle EM-I.
<![if !vml]>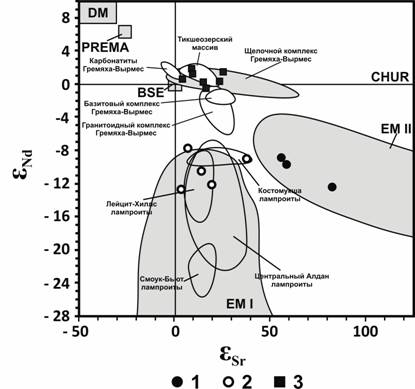 <![endif]>
Fig. 1. Diagram εNd - εSr for alkaline rock series of Murmansk Neoarchaean craton.
1 - peridotite-shonkinite series, 2 – lamproites and leytsitity, 3 - alkaline-ultrabasic rocks massif Iokangski target. Fields massifs Gremyakha-Vyrmes and Tiksheozero given by [Arzamastcev et al, 2006] lamproite by [Kononov et al, 2011].
This work was supported by the program Number 9 Department of Earth Sciences RAS.
Literatura
Arzamastsev A.A., Arzamastseva L.V., Bea F., Montero P. Proterozoic Gremyakha-Vyrmes polyphase Massif, Kola Peninsula: An example of mixing basic and alkaline mantle melts. Petrology. 2006. Ò. 14. ¹ 4. Ñ. 361-389.
Kononova V.A., Bogatikov O.A., Kondrashov I.A. Kimberlites and lamproites: Criteria for similarity and differences. Petrology. 2011. Ò. 19. ¹ 1. Ñ. 34-54.