Fayalite-bearing rare metallic ongonites and leucogranites of Chatkal-Kurama region, Central Tianshan
Mamarozikov U.D.
Institute of Geology and Geophysics, Academy of Science Republic of Uzbekistan, Tashkent, Uzbekistan; udmamarozikov@rambler.ru
According to geological, petrographical, mineralogical, geochemical data fayalite-bearing ongonites and and leucogranites of the Chatkal-Kuramin region of Central Tienshan forming the magmatic association, which has rare-metal- and rare-earth metal specialization.
The rare metal-bearing ongonite (ongorhyolite) – Li-F-leucogranite association is a product of continental intraplate magmatism (Kovalenko et al., 1999; Antipin et al., 1999, 2008). The rocks are acidic (SiO2 68–73%) and ultra-acidic (SiO2 73–76%), containing albite, K-feldspar, quartz, and Li-fluorine mica and high concentrations of Li, Be, W, Mo, Sn, Nb, Ta, REE, Hf, Zr and fluorite.
In Central Tianshan, ongonites, ongorhyolites and rare metal-bearing granites are exposed in the area of the Inilichek ore deposit of the Sareijaz tin ore district (Trifanov, Solomovich, 1982), the Sargardon tungsten deposit and the Shavazsay lithium deposit. Between 2005 and 2010 these deposits were investigated in detail (Akhundjanov et al, 2006, 2008, 2009; Mamarozikov, 2010), and exotic rocks such as aegirine ongorhyolite (Ertash neck), fayalite ongonite (Angren dykes) and fayalite leucogranite (Chetsu intrusion) were described. These rocks are associated with deep fracture zones and are characterized by Li, Be, Sn, W, Ta, Nb, REE and radioactive mineral mineralization.
In the Chetsu-Shavkatli rare metal area, Chatkal-Kurama region, fayalite-bearing ongonites and their intrusive analogs, fayalite leucogranites occur. Fayalite-bearing ongonites form 200–300 m thick dike-like bodies that intrude trachyrhyolite of the Babaytaudor laccolith. The dikes extend in a sub-meridian direction and are exposed over a distance of 15 km along the right bank of Angren River. Small bodies of fayalite –bearing leucogranite crop out on the left bank of Angren River, in the upper reaches of the Chetsu River (Chetsu stock) and its right branch (Shavkatli tin deposit). The exocontact and apical part of the fayalite-bearing ongonites and leucogranites, metasomatism have produced hybrid granosyenite –porphyry.
The Rb-Sr dating of the Angren fayalite-bearing ongonite dikes and the fayalite –bearing leucogranite of the Chetsu intrusion indicates a late Permian age (264 ± 3 Ma for ongonite of Angren dyke; 264 ± 2 Ma for the leucogranite of Chetsu (87Sr/86Sr)0 of 0.70889 for the ongonite of Angren dyke and 0.70989 for the leucogranite Chetsu stock indicates involvement of mantle material in genesis (Mamarozikov, 2010).
Petrography of fayalite-bearing ongonite and leucogranite Fayalite –bearing ongonites are dark grey, porphyritic rocks with a micro-cryptocrystalline, microfelsitic to spherulitic quartz-feldspathic groundmass and 30–35% phenocrysts of albite-oligoclase (35–40%), K-feldspar (30–35%), idiomorphic quartz (25–30%), 2-5% Ti-bearing fayalite (largely altered to iddingsite), ferroaugite, aegirine-augite, ferropargasite, and biotite, 1.5-2% fluorite and REE carbonates. Accessory minerals include zircon, titanomagnetite, ilmenite, ilmeno-rutile, niobic rutile, apatite, fluorapatite, yttro-apatite, rhabdophanite, phosphate –bearing yittro-thorite, synchysite, bastnaesite, orthite, tscheffkinite, Mo-, Co- and REE-bearing varieties of pyrite, Mo-Re -bearing galena, sphalerite, intratelluric compounds of Zn-Cu, Mo-Os.
In the fayalite-bearing ongonites, gabbroic xenoliths and dark grey glassy, cryptocrystalline autoliths occur. An average composition (wt. %) of the autoliths is: SiO2– 77.74; Al2O3– 13.60; FeO + Fe2O3 – 0.29; CaO– 1.54; Na2O–6.37. By the application of EMPA of "Jeol-8800R", the micro- and nanocrystals are determined as: albite, quartz, K-feldspar, pyroxenes (ferroaugite, aegirine-augite), alkaline amphibole (ferropargasite), fayalite intensively replaced by iddingsite, thorite, Nb-, Zr- rareearth metal silicates (risoerite, hydroorthite, zircon, cirtolite), fluor-carbonates (synchysite, bastnaesite, lanthanite), yittroapatite, Mo-, Tl-bearing galena, Zn-bearing titanomagnetite, intratelluric compounds (alloys of Mo-Os composition). In the micro crystals of quartz nanocrystals of cassiterite are found.
Fayalite -bearing leucogranites of early Permian age, occurs as small bodies (from 20 m ×30 m to 4–5 km2) that intrude trachyrhyolite, felsite porphyry and quartz porphyry of the Babaytaudor laccolith. Leucogranite of the Chesu stock are grey to dark grey, porphyritic with a fine-grained microgranitic to locally micropegmatitic quartz-feldspar groundmass. Phenocrysts are the same as the fayalite–bearing ongonite, i.e., albite-oligoclase, K-feldspar, idiomorphic quartz, rare biotite, fayalite, pyroxene (ferro-augite, aegirine-augite) and alkaline amphibole (ferro-pargasite). The rocks contain segregations of fluorite and primary REE carbonate minerals. Numerous accessory phases include zircon, magnetite, titanomagnetite Mn-bearing ilmenite, ilmenorutile, garnet (mainly pyrope-almandine series), cassiterite, Nb-rutile, titanite, fergusonite, risoerite, samarskite, apatite, fluorapatite, yittroapatite, monazite, fluor-bearing rhabdophane, REE bearing fluor-phosphate of zirconium, fluor-orthite, thorite, phosphate bearing yittro-thorite, synchysite, bastnaesite, lanthanite, thori-orthite, hydroorthite and fluororthite, nagatellite, tscheffkinite, pyrite, arsenopyrite, molebdenite, scheelite, intratelluric compounds (metallic alloys) of Ni-Al, Zn-Cu-Pb, Zn-Cu, Fe-As-Mo compositions.
Fayalite-bearing ongonites and leucogranites porphyries from Chetsu-Shavkatli rare metal area, Chatkal-Kurama region, are characterized by abundant segregations of fluorite and primary carbonate that are associated with Ti, Nb, and REE phases. Yttrium-bearing phases are more abundant than Ce-bearing phases suggestive of compositional evolution of a mantle fluid-magmatic system in the genesis of fayalite-bearing rocks that are enriched in Nb, W, Cs, U, Th, Hf, REE, Sb, As, Au indicating rare metal geochemical specialization in their magmatic melts (Fig. 1).
<![if !vml]>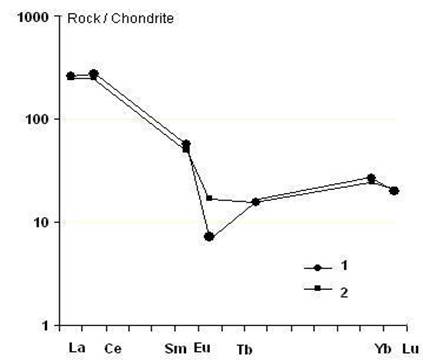 <![endif]>
Figure 1 Chondrite-normalized REE patterns of fayalite-bearing leucogranites of Chetsu stock (1) and fayalite-bearing ongonites of Angren dyke (2).
These examples of apogranite-intrusive rocks and their rare-metal ore-mineralization from Chetsu-Shavkatli rare metal area formed as a result of the contact-metasomatic interaction between a fluid -saturated ongonite melt and trachyrhyolite country rocks with the formation of granosyenite porphyry within the ongorhyolite and leucogranite. Localization of non-traditional rare-metal mineralization in the granosyenite porphyry is inferred to have resulted from the concentration of ore-generating heterogeneous fluids exsolved from the ongonitic magma.
This study was financially supported by Academy Sciences Republic of Uzbekistan grant FA-A5-T082.
References:
Kovalenko V.I, Kostitsen Yu.A, Yarmoliuk V.V. Source of magma and isotopic (Sr and Nd) evolution of magma of rare metal Li-F granitoids // Petrology. 1999. Vol.7. ¹ 4. P. 401-429 (in Russian).
Antipin V.S., Savina E.A., Mitichkin M.A., Perelyaev V.I. Rare metal bearing lithium fluorine granites, ongonites and topazites southern Pre-Baikalia // Petrology. 1999. Vol. 2. P. 141-155 (in Russian).
Antipin V. S., Perepelov A.B. Geochemical relationships between processes of batholith formation and rare metal granitic intrusive-dike belts in regional development of Phanerozoic granitoid magmatism areas. Granites and evolution of Earth: geodynamic position, petrogenesis and ore-bearing granitoid batholith. Ulan-Ude, Russia. 2008. http://geo.stbur.ru/info/granites/st/st014.html.
Trifanov B.A., Solomovich L.I. On the finding of ongonites in Tianshan // Reports of Academy Sciences of SSSR. 1982. Vol. 2. P. 435-437 (in Russian).
Akhundjanov R., Mamarozikov U.D., Saidyganiev S.S., Suyundikova G.M. Alkaline ongorhyolites of Ertashsay (Almalyk-Angren mining area, Central Tianshan) // Geology and Mineral Resources. 2006. Vol. 6. P. 11-15 (in Russian).
Akhundjanov R., Mamarozikov U.D., Saidyganiev S.S., Suyundikova G.M. // Rare metal ore-magmatic systems of western Tianshan (Uzbekistan). Oregenesis, materials of international conference. Mias-Ekaterinburg, Russia. 2008. P. 19–22 (in Russian).
Akhundjanov R., Mamarozikov U.D, Suyundikova G.M. Association of rare metal acidic intrusions (Chatkalo-Kurama region, Western Tianshan ). Tashkent: Fan, 2009. 165 p (in Uzbek withes Russian and English abstracts).
Mamarozikov U.D. Potential ore-bearing of the ongorhyolite-leucogranite association of Chatkal-Kurama region, Western Tien-Shan // Reports of Academy Sciences, Republic of Uzbekistan. 2010. Vol. 5. P. 46-51 (in Russian).